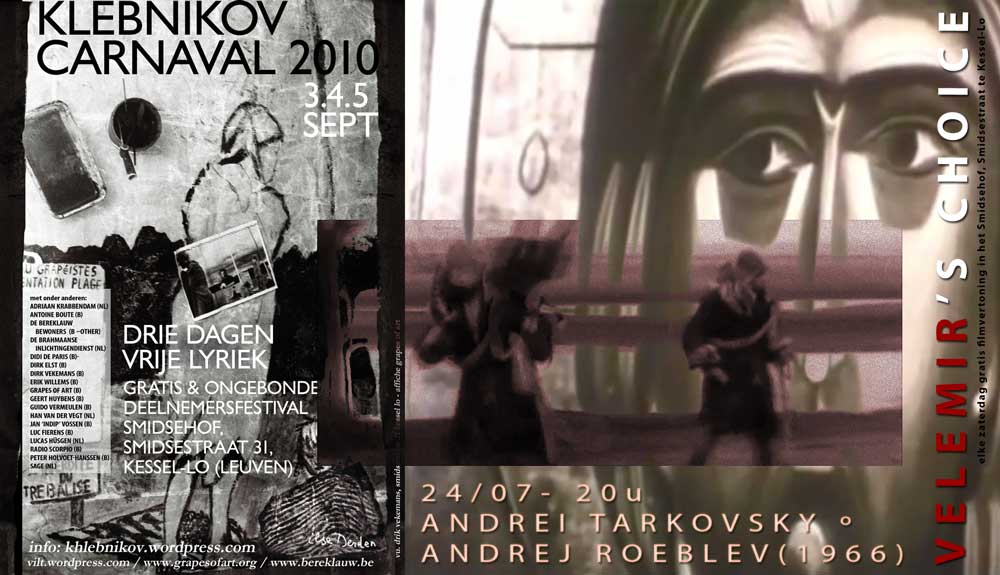 Tot aan het KLEBNIKOV CARNAVAL 2010, 3-5 september, kijk ik elke zaterdagavond naar een film die de President van de Globe mij middels nachtelijke visioenen heeft ge-upload vanuit het Infiniete BuitenTijdse waar hij momenteel Opereert.
Om geen pixel te missen doe ik dat maar middels een beamerke op een diascherm, hier beneden in ons Evenementenlokaal. Daar is verder plaats zat, dus u bent hierbij vriendelijk uitgenodigd om mee te komen kijken.
Ge moet wel uw eigen chips en drank meebrengen.
Vandaag kijken we, na een voorfilmpje van Grapes of Art, omstreeks 21u  naar Andrej Roeblev, het meesterwerk uit 1966 van Andreï Tarkovsky over de Ikoonschilder  die Andrej Roeblev heette (dat kan geen toeval zijn).
Wees gezeten, spalk uw ogen, zwijg & kijk.
(Nadien kan er nog over de film of Iets Anders gekeuveld worden).